East Rail Line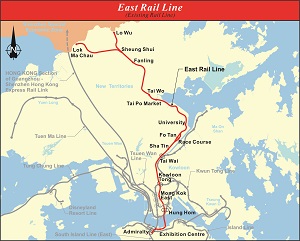 East Rail Line was the first heavy rail in Hong Kong. It commenced operation in 1910 known as Kowloon-Canton Railway to provide services from Kowloon through the New Territories to the Lo Wu boundary crossing to the Mainland. East Rail Line was built and run by the Government until 1982, when the Kowloon-Canton Railway Corporation was established as a statutory public body to operate East Rail in accordance with prudent commercial principles. After the merger of Hong Kong's two railway operations on 2 December 2007, MTR Corporation Limited operates the East Rail Line.
East Rail Line has undergone massive improvements over the years to cater for changing transport demand, increasing cross boundary demand and rising public aspirations on the quality of rail services. It started from a 34 km single track system in 1910, and was completely electrified and double tracked by 1983. After modernization and extension of the rail network from Hung Hom to Tsim Sha Tsui and from Sheung Shui to Lok Ma Chau in 2004 and 2007 respectively, East Rail Line then comprised 15 stations; namely East Tsim Sha Tsui, Hung Hom, Mong Kok East, Kowloon Tong, Tai Wai, Sha Tin, Fo Tan, Race Course (for special services on racing days), University, Tai Po Market, Tai Wo, Fanling, Sheung Shui, Lo Wu and Lok Ma Chau Terminus. East Tsim Sha Tsui and Kowloon Tong are the interchange stations with Tsuen Wan Line and Kwun Tong Line respectively. Upon the opening of Austin in August 2009, East Tsim Sha Tsui has become an intermediate station of the former West Rail Line, East Rail Line has 14 stations with the terminal station reverted to Hung Hom. Upon the commissioning of the East Rail Line Cross-harbour Extension on 15 May 2022, it comprises the Hung Hom Station Extension, a new Exhibition Centre Station and the Admiralty Station Extension and extends the East Rail Line from Hung Hom across the Victoria Harbour to Wan Chai North and Admiralty. Lok Ma Chau Terminus close to the boundary with Shenzhen is connected by a pedestrian bridge across Shenzhen River with Huanggang on the other side of the boundary. Cross-boundary passengers have an easy transfer to Shenzhen mass transit railway system.
Apart from domestic passenger services, East Rail Line also carries boundary train services and inter-city through train services.