Management Policy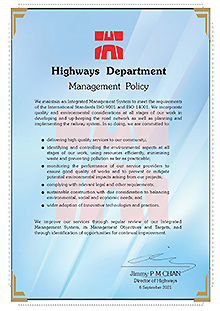 We maintain an Integrated Management System to meet the requirements of the International Standards ISO 9001 and ISO 14001. We incorporate quality and environmental considerations at all stages of our work in developing and up-keeping the road network as well as planning and implementing the railway system. In so doing, we are committed to:
delivering high quality services to our community;
identifying and controlling the environmental aspects at all stages of our work, using resources efficiently, minimizing waste and preventing pollution as far as practicable;
monitoring the performance of our service providers to ensure good quality of works and to prevent or mitigate potential environmental impacts arising from our projects;
complying with relevant legal and other requirements;
sustainable construction with due consideration to balancing environmental, social and economic needs; and
wider adoption of innovative technologies and practices.
We improve our services through regular review of our Integrated Management System, its Management Objectives and Targets, and through identification of opportunities for continual improvement.
Jimmy P M CHAN
Director of Highways
6 September 2021